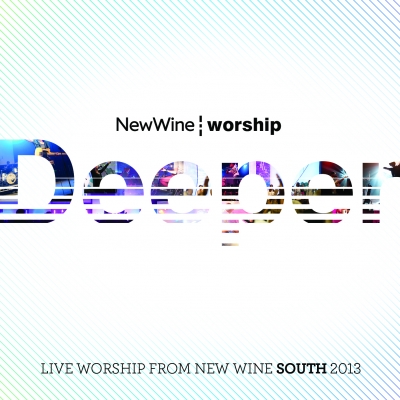 New Wine is a movement of churches working together to change the nation through a network of church leaders, National Gatherings, training events and resources. Across the nation, every summer, churches of all denominations gather to celebrate Jesus by worshiping together at three fantastic summer conferences. Last summer, New Wine Worship hit the record button to see what would come out.
In previous years, every New Wine worship album has been recorded at their Summer Conferences in at Shepton Mallet in the south. However, this year, they decided it was time to highlight what the Lord is doing in all three regions of the UK.
The North has often been seen as the 'poor relation' to the South in the UK (some things never change - we couldn't even find an image of the album cover to use with this review!) so it was the album recorded at Newark Showground in the North that particularly interested us.
Along with renown worship leader and prolific songwriter Brian Doerksen, all the musicians and leaders are from the North of England. There are some great churches involved in the making of this record. Worship leaders such as Nicole Brown (Kings Centre, Sheffield) Pete James, a regular leader of worship at Spring Harvest and other events, Becca Staniforth (St Thomas Crookes), and Ian Yates from (Elim Pentecostal) all contribute to this album.
Ian Yates's version of God's Great Dance Floor sets the tone of this album: raw, rough in places, but full of Northern character. Generally, this is how Deeper up't'North continues.
From a musical point of view, Deeper isn't the most exciting thing you'll hear. If you attended the conference it will be a great reminder of what local churches can produce when working together. However, there's charm in the prophetic and worshipful outbursts of Nicole Brown's leading, or the slightly out of time clapping from the congregation that covers a myriad of tracks, which are captured brilliantly.
Deeper also serves to show what songs are connecting with local churches at the moment. They're all the songs you'd expect to hear from 2013: This Is Amazing Grace, which has a certain Sloop John B. quality to it, Ready For You and For the Sake of the World. However, it's albums like this that help introduce a song like Glenn Packiam's Mystery of Faith, probably the best worship song from last year, to local churches in rural parishes and towns of the United Kingdom.
In all, Deeper may not be your go-to album at the moment or ever, for that! In places it's messy and slightly 'unprofessional' (in the nicest possibly way), but it's definitely heartfelt, authentic, serves to gauge the temperature of worship in local churches across the North, and a true representation of the Conference itself.
Best listened to with yer whippet, pie and peas, and a pint of bitter t'lad!